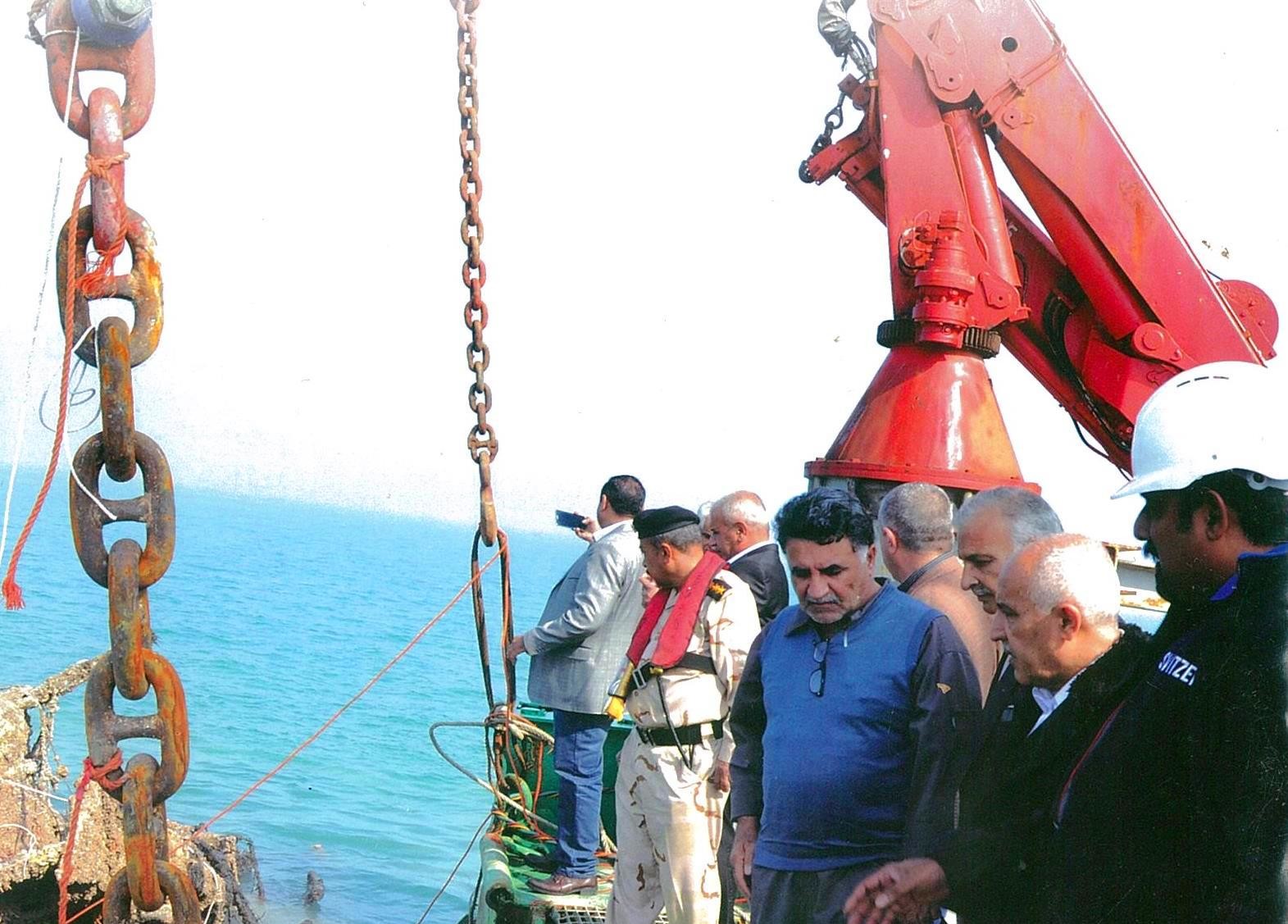 Salvage operations of the Most Dangerous military wrecks in Al Basra oil terminal.
By admin In Activities & News On September 21, 2014
---
The front page Article as published in the Iraqi magazine "Naftona" ( South Oil Company )
Under the supervision of the General Manager
Salvage operations of the Most Dangerous military wrecks in Al Basra oil terminal.
The General Manager has visited Al Basra Oil terminal to supervise the salvage operations for the most dangerous military wreck in Al Basra oil terminal which was sunk since the war of the eighties of the past century.
South Oil Company in cooperation with the supporting parties managed to remove the said military wreck from the oil terminal, this wreck is a missile launching vessel with estimated weight of 350 tons, and one of unexploded missiles on board.
"One of the most critical problems that we faced in developing the proposed plan for increasing the oil exports, was the existence of massive amounts of mines and wrecks in the export ports", said the General Manager in his special conversation with "NAFTONA", he added that "this wreck that has been salvaged today was the most dangerous, as it was laying above the sea pipes that  supply Al Basra oil terminal".
The dimensions of this sunken missiles launcher vessel reach 35m in length, 10 m in width, and 10 m in height.  One unexploded missile was found on board with 500 kilograms weigh, and had been salvaged underwater and removed to a safe distance that reaches about more than 4 kilometers which by turn does not affect the operations of berthing and unberthing from and to the port.
Whether there were any probable damages that resulted from the existence of these wrecks above the two pipes of importing or not, he added that; "We have set a good plan in anticipation for the worst possibilities in case there were leaks that might cause pollution in the territorial or even international waters. However, thanks God, nothing happened and the operation has been accomplished successfully, the pipe appeared safe, the wreck is far away and it will be cut and removed away of the region".
"This exclusive accomplishment of the wreck removal, will give the huge global vessels the sense of feeling secured and safe for berthing and unberthing in Al Basrah oil terminal", said Mr. Ashour Khamees Faisal – Director of Projects Authority, he also praised the role of the environmental department in Basrah, Iraqi ports company,   the Anti-Pollution regional center and SVITZER Salvage – Dutch Company. ( Svitzer Salvage – Jawar Al Khaleej Shipping Joint venture operation )
---